Recently we were contacted by Cathy Dunn who explained her family's background in Ireland and Australia.
Cathy's dad, Sean O'Carroll was at Waverley on Easter Sunday 2016 and laid a wreath for the 1916 Easter uprising which his mother, May, was part of.
Sean's parents John and May O'Carroll were also involved with the INA and John O'Carroll spoke on most Easter Sundays at Waverley. Sean was so honoured to be there where his parents and family had stood every Easter Sunday – with thanks to Anne-Marie Whittaker.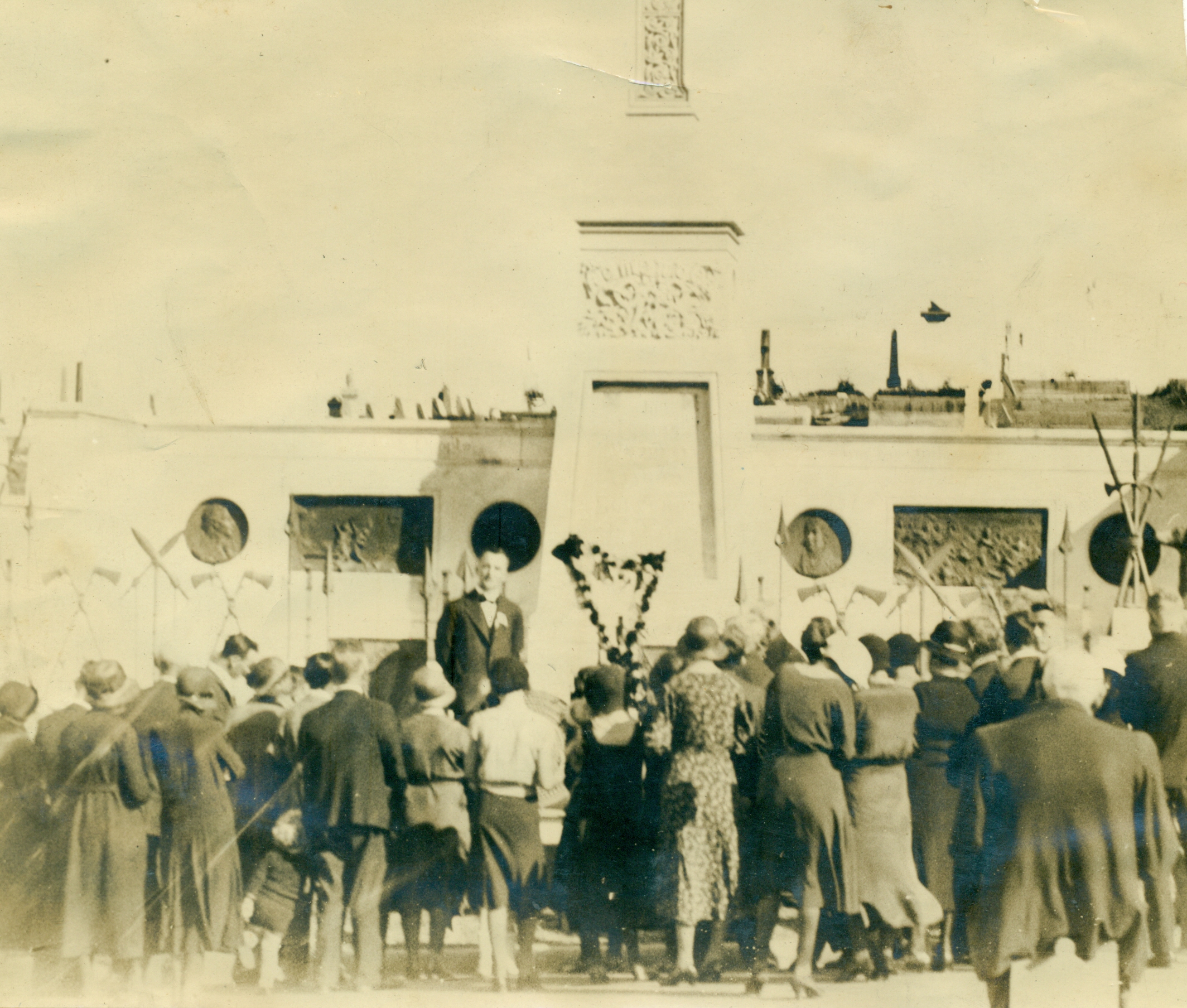 Easter Waverly Memorial, circa 1930/31 photo courtesy of O'Carroll Family Collection
Cathy Dunn and her dad Sean O'Carroll at Waverly Memorial, Easter 2016
May was a foundation member of Cumann na mBan, the Irish republican women's paramilitary organisation formed in Dublin on 2 April 1914 as an auxiliary of the Irish Volunteers.
She was in the General Post office at the start of the 1916 Easter Rising and was imprisoned in Kilmainham Gaol after the rising.
She married John/Shaun O'Carroll from Silvemount, Tipperary on 6 May 6 1917 at St. Agatha's Catholic Church, in Dublin.
John and May O'Caroll moved to Liverpool, England in late 1923 or early 1924 and later sailed for New Zealand with their two children Robert Emmett and Eileen Marklewies.  Mary lost four children before the O'Carroll family settled in Australia in 1929 and moved to 220 Darling Street, Balmain.
Every Easter Sunday they visited the Irish Martyrs' memorial at Waverley Cemetery, and their Australian born children were named after the Irish Martyrs.
They had four daughters Eileen Marklewies, Cathleen Clare, Patricia Josephine and Maureen Cyril.  Six sons Robert Emmett, Seamus Connolly, Sean Houston (Cathy's father), Liam Mellowes, Eamon Ernest and  Peader Clancy.
Cathy Dunn
Australian History Research
www.australianhistoryresearch.info